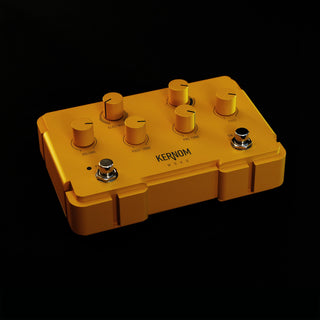 SPECIFICATIONS
INPUT IMPEDANCE:  1Meg Ohm (Guitar mode)
OUTPUT IMPEDANCE: 100 Ohm Bypass 
SWITCHING: True Bypass (electromechanical relay switching) 
DIMENSIONS:  11.2 cm deep x 16.4 cm wide x 5.2 cm tall (4.4 inches deep x 6.5 inches wide x 2 inches tall). 
WEIGHT: 850 g (1,8 lbs) 
BUILD MATERIAL: 5mm thick aluminium casing with sulphur spark smooth and high grade painting surface 

MIDI CABLE REQUIREMENTS: Use a type A mini jack TRS MIDI cable. 
POWER ADAPTOR REQUIREMENTS: Use an adaptor (not included) with the following rating: 9VDC center negative. (250mA minimum, 300mA or more recommended.)

MOHO MOOD
Using the MOOD, immerse yourself in the rich history of fuzz over the years. Begin by exploring the timeless vintage tones from the psychedelic era, progress through the contemporary and tighter sounds of grunge and garage rock, and finally, be enticed by the futuristic and edgy ring-modulated sounds of the future. Your imagination knows no bounds with this pedal. 

EQ section that goes beyond simple tone control.
The POST-TONE control is positioned after the fuzz stage, allowing you to fine-tune the intensity of high-frequency distortion that emerges at the pedal's output. The PRE-TONE control empowers you to dynamically alter how the fuzz stage responds to your playing. This adjustment changes the interplay between your instrument and the transistor bias, resulting in a more dynamic or gated sound, depending on the notes you play.
Step on your favorite settings.
Use the internal preset accessible via the dedicated footswitch to have access to two sounds at any given time. Simply hold the preset footswitch for 2 seconds and save the current position of the knobs for later use.
Easily find what you've saved, thanks to Kernom's editing features.
Recall up to 128 presets via MIDI.
Full MIDI compatibility with easy editing features. Save and recall up to 128 different presets and cover all your fuzz needs. The use of an external MIDI switcher (not included) is needed.
Blend your favorite flavors.
Connect your expression pedal to the MOHO to control any combination of knobs and explore new possibilities.
ELECTRICITY
The distinctive ELECTRICITY control acts as both an octaver (one octave down, or one octave up) and a ring modulator (with internal oscillator) , influencing its response to the notes you play.
MOOD
MOOD continuous control to choose from an infinite number of different analog fuzz pedals.
FUZZ
From quiet to full on crazy fuzz.
PRE TONE
PRE-TONE acting before the clipping stage to change the way the pedal reacts to your guitar.
POST TONE
POST-TONE acting after the clipping stage to precisely tailor your output sound, from fat and heavy to beautiful chime.
PRESET
1 onboard preset, 128 presets accessible via MIDI.
True bypass with relay.

Expression pedal Input.

MIDI in and OUT with full control OVER all the parameters.